Collecting metadata.
In this document, you will learn about the metadata of the data for your final portfolio. Review the documents in the links below and then begin to prepare entries of the metatdata for the maps you will submit for your final portfolio.
Follow the guidelines set forth by the the Forest Information Resource Management Systems (FIRMS) laboratory which is illustrated below.
Follow this model: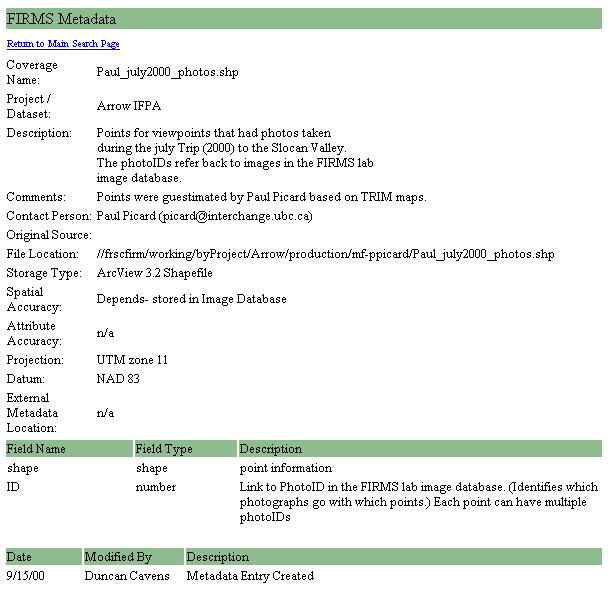 FIRMS lab metadata database query tool
---
Explanation: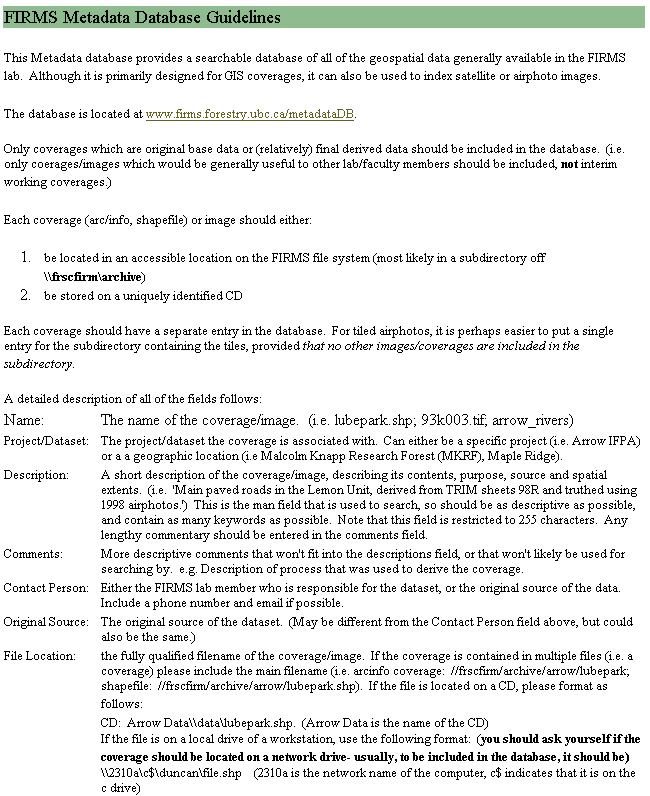 Data entry form guidelines
full article: Academic Metadata Standards: Getting Compliance Without Enforcement
---
Metadata
It's 'data about the data' and it's vital to GIS. Tools, extensions and tutorials on how to accurately document your data.

The Federal Geographic Data Committee FGDC coordinates the development of the National Spatial Data Infrastructure NSDI. The NSDI encompasses policies, standards, and procedures for organizations to cooperatively produce and share geographic data.


Improve Metadata Collection with Extension
http://www.esri.com/news/arcuser/1000/metadata.html

ArcView® Metadata Collector v2.0 Extension
http://www.csc.noaa.gov/metadata/text/download.html
---
Blank Form to fill out the metadata of the maps in your final portfolio:
Coverage Name:
Project / Dataset:
Description:
Comments:
Contact Person:
Original Source:
File Location:
Storage Type:
Spatial Accuracy:
Attribute Accuracy:
Projection:
Datum:
External Metadata Location: